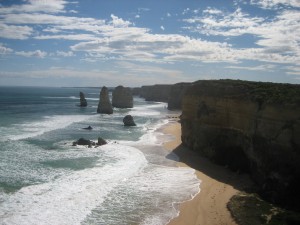 Brad and I did a day tour of the Great Ocean Road the other weekend with Go West. We saw a lot! It was a pretty fast paced tour, not a lot of time to get out and explore areas. However, if you have a limited timeline, as in only one day, we were pretty happy with it.
The coast was amazingly beautiful, as you can see from a picture of the twelve apostles I took. There are crazy crazy rock formations. These were just some of the many we saw.
There was also a short trek through a beautiful rainforest. It's hard to believe there is a rainforest in an area as dry as this. There were lots of amazing tree ferns and craggy, monster looking trees.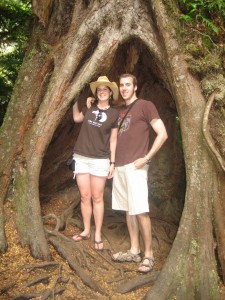 If you have time I highly reccommend taking 2-3 days to see the Great Ocean Road, but if you only want to spare a day, Go West was pretty good. Our guide could have used a few more jokes, but you can't win them all!