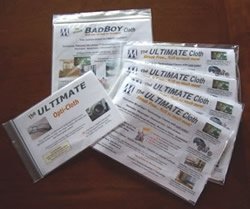 Time for another greenie product I love!
The Ultimate Cloth is awesome. It cleans using just water. And it works just as well, actually probably better, than my old sponge and cleaner. I use it on everything. Windows, wood, stainless steel, countertops, cupboard doors and even the floor (I just use it like a swiffer cloth). It's simplified cleaning, since I only need one thing, the cloth! No more harsh cleaners! This is a great item if you have any sensitivities to chemicals. Although, really we could all handle a few less chemicals.
If you happen to be in NS, you can get them from Betty Touesnard in Cape Breton. There only $7 a piece, way cheaper than I would expect! It's a great way to green-up your home with minimal effort and no compromise.