That's more or less the headline of a story that ran yesterday on the CBC news channel.
What? I didn't know we had food shortages! But after a little searching, well there's some bad stuff going down in the world.
7 people in Egypt died in a riot of people waiting to get bread.
People in Haiti are eating mud to get essential minerals.
Here in Canada wet weather is taking a bite out of crop harvesting in the prairies.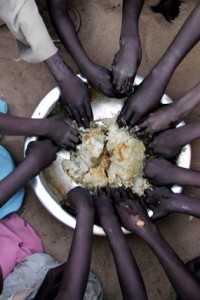 Eep. I didn't realize things were so bad. There was a day when I couldn't find spinach in any grocery store in Halifax, but other than that things haven't really appeared on my radar. However, with extreme weather becoming more and more of a norm, we can only expect more of the same. Prices for food staples are going to continue to rise, especially on the things we eat (or our food eats) all the time, like flour and corn.
Is fake meat really the answer? I had written about fake meat before, but I never thought about this side of the issue. With the technology of growing meat tissue in a laboratory, can we feed the world's population? Maybe. But do we need to? NO
Like I said, I haven't noticed a food shortage. I don't have to resort to standing in line for hours for bread or eating mud to survive. I have a lot of food in my cupboards. It sometimes goes bad and I have to throw it away.
People are eating mud and I'm throwing food away.
This is wrong. Why do I have so much and they don't have anything? Because I can afford to pay for it? The way we perceive our food in the Western world needs to change. We eat way too much! We're obese. We join gyms to counteract the very act of eating. We really could get by with eating a lot less as a society. One particular food item we eat too much of is meat. Why would we need to grow more of it in a lab?! North Americans have an extremely high protein diet. Our portions of meat are too big and our frequency of meat consumption is too high. If we start eating only what we need, we wouldn't need so much food in the first place!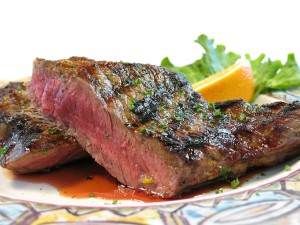 What you can do:
1) Know your portion sizes. One protein serving is about the size of a deck of cards. How big was the last steak you ate?
2) Only buy what you need. Are you always throwing out half a head of lettuce? Make a list of what you want to eat that week and know how much of each item you want to buy. Also, clean out the fridge regularly. That way you remember what's in there and don't let it go bad or buy doubles.
3) Think about all the money you're saving and weight you're not gaining. Like I've said before, it's hard to care about a riot in Egypt but easy to care about things that hit close to home. So be selfish and do this for yourself!
We need to change the way we perceive food now, before the problems does hit close to home. Growing meat in a lab is not the answer we need right now.