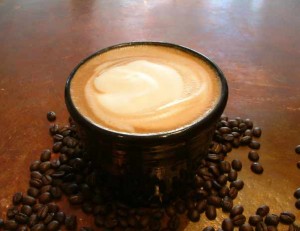 Melbourne is nutters over coffee. Nutters. More so than Vancouverites.  There are cafes everywhere, and fortunately only a couple Starbucks. It's a nice break from Starbucks I must say.
Now if you were to arrive in Melbourne from Canada and try to order a coffee you would probably be confused and so would the barista. You cannot ask for a coffee. Well you can, but that will be followed by "what coffee would you like?" They don't even have drip coffee! It's all espresso made. You can ask for a latte or cappuccino and those are the same. But here's a mini lesson:
Latte = Latte
Cappuccino = Cappuccino
Flat White = Latte with less foam
Long Black = Americano (like a black coffee)
Short Black = Espresso shot
Macchiato = Espresso shot with a little milk
But here's the kicker…coffees in Melbourne are better than any coffee I have ever had anywhere. It's soooo good. I'm already dreading of what will happen when I go back to Canada and need to fuel my caffeine addiction. And it's cheaper! A latte at Starbucks in Canada is going to be $4-$5. A latte here is going to be $2.50-$3.50. That makes a big difference if you buy a coffee (or three) a day. I'm lucky enough to work at a cafe and get coffees at work, otherwise I'd be poor. This is the plus 1.
The minus 1 is that no one uses travel mugs! I've hardly seen anyone go into a cafe with their own mug.  A lot of people do have their coffees in the cafe, and get real cups and mugs, but there's a lot of take-away coffee cups used in this city everyday. I'm trying to use mine every time I go and maybe it will catch on. Maybe.